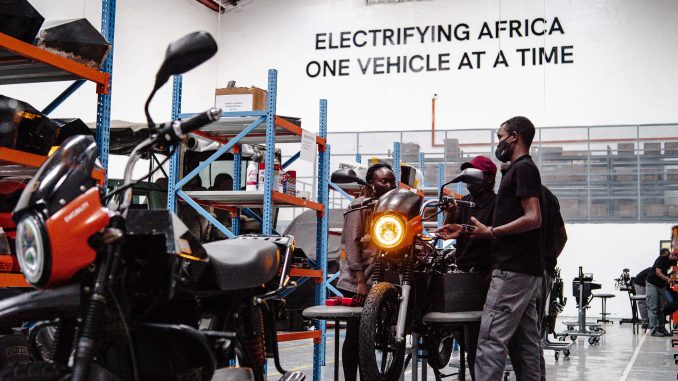 Last week in brief…November 8th, 2021
A couple of eMobility deals were featured in our coverage last week. Both were in East Africa. The first, mainly an equity deal, was led by At One Ventures, a US-based venture capital firm, which headed a trio of investors backing Optibus, an electric vehicle manufacturer headquartered in Kenya. The 4-year old company has raised a total of $7.5 million made up of $5 million in equity and $2.5 million in grants which will be used to scale the company's operations. The other investors participating in the deal are Factor[e] Ventures and Ambo Ventures.
The second deal marks DFC's first loan in the eMobility sector. The development finance institution is providing as much as $9 million to Ampersand Rwanda, an electric motorcycle startup based in Kigali. The company, which assembles and finances e-motos or e-bodas, electric motorcycle taxis, will use the funding to increase the number of e-bodas and owner/drivers in Rwanda and Kenya.
The largest deal of the week comes to us courtesy of Chipper Cash. Fresh from raising $100 million from its Series C round four months ago, the African cross-border payments firm banked another $150 million last week in an extension of the round backed by a group of new and existing investors. Estimates value the 3-year-old fintech business at $2 billion, cementing its position as one of the continent's most valuable startups. The extension round was led by new investors FTX, a cryptocurrency exchange platform.  In a vote of confidence in the business, as many as six of the startup's existing investors also participated.
Back in East Africa, Creadev has led a group of investors backing Twiga Foods' latest fundraising round. Between them, the investors, most of whom backed the e-commerce distribution platform's earlier rounds, are investing $50 million in the firm. Since its launch seven years ago, Twiga has built Kenya's only end-to-end B2B distribution network for fresh and processed foods enabling clients to order stock for their production facilities, shops, or market stalls using Twiga's mobile cashless payment platform. The other returning investors include TLcom Capital, IFC Ventures, DOB Equity, and Juven. OP Finnfund Global Impact and Endeavor Catalyst are joining the firm's cap table for the first time.
Breadfast, a grocery delivery platform based in Egypt, has raised $26 million for its Series A round from a group of investors co-led by Vostok New Ventures and Endure Capital. The startup's expansion plans include rapidly establishing operations in eight new cities in Egypt, hiring new people, scaling its technology, and preparing to expand its service offering across sub-Saharan Africa.
Staying in North Africa, OP Finnfund Global Impact Fund I, a Finland-based emerging markets impact fund, has invested equity in a Moroccan healthcare business. The €135 million fund is investing $10 million into Cliniques Internationales du Maroc Group (or CIM Santé Group), a well-established healthcare group that currently operates three private clinics in Rabat, Marrakech, and Tangier. The size of the stake being acquired has not been disclosed.
There were three Africa-related fundraising items last week. A new fund managed by Admaius Capital, a private equity firm founded by Marlon Chigwende who formerly headed Carlyle's sub-Saharan investment activities, has launched with two anchor investors. The Qatar Investment Authority and Rwanda Social Security Board have both made commitments, setting the Virunga Africa fund on its path toward its $250 million final goal.
Ezdehar's Egypt Midcap Fund II is being considered for a commitment from another DFI, the third in as many weeks. This time, FMO is mulling a $20 million investment in the private equity fund which will target mainly family-owned businesses in Egypt that are looking to grow and institutionalize themselves.
Three Zambia-based organizations have agreed to set up a new climate fund next year. It will focus on bankable projects and companies operating in segments such as climate-resilient agriculture, sustainable forestry, cleaner energy, and sustainable natural resource usage. The Green Outcomes Fund, as it is called, aims to raise a billion Zambian kwacha, (or about $55 million), to invest in small and medium-sized businesses that are committed to making the transition to green production practices and creating green jobs in Zambia. World Wide Fund for Nature Zambia and Zambia National Commercial Bank (or ZANACO), the fund's two main sponsors, have tapped Kukula Capital to manage the fund.
Finally, news of plans of a new pan-African investment vehicle targeting opportunities in climate-aligned infrastructure projects and growth businesses. Helios Investment Partners and InfraCo Africa are joining forces to launch the platform, responding to growing demand from international and African investors looking to back sustainable investment opportunities that both narrow the infrastructure gap on the continent and support communities susceptible to the negative impact of climate change. The goal is to raise $350 million for the vehicle's investments, and while it will start out as a private vehicle, the sponsors will design and capitalize the platform with a view to listing it within 3 years of its final close.
That's it for this week. As always, you can review these and other stories by clicking through to this week's preview edition of the newsletter.